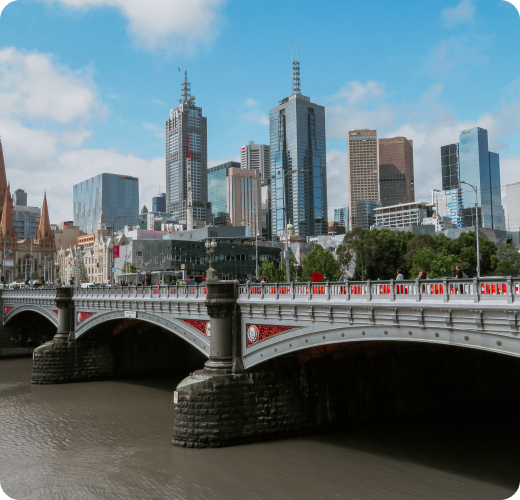 Melbourne, capital of Victoria, is a thriving commercial centre, home to thousands of successful businesses. Melburnians love to 'work hard, play hard', and our vibrant business sector sits alongside our love of footy, theatre and arts and of course, Melbourne's famous café culture. With so many opportunities to connect, Melbourne is the natural home for a Fresh Corporate hub.
The benefits of corporate networking in Melbourne
Fresh Corporate Melbourne brings together professionals and business owners who serve corporate and mid-sized clients in the BtoB sector. Our members have strong existing networks of business decision makers and want to expand them through mutual introductions.
We're also part of the broader Fresh network, with café hubs far and wide. As a Fresh Corporate Melbourne member, you can also expand your connections by visit any and all of our other café hubs as often as you want.
Why go Fresh Corporate?
Fresh Corporate is all about 'Corporate Connections with Less Blah'. 'Corporate connections' means we focus on expanding our B to B networks through mutual introductions. This enables us to offer increased value to our clients by introducing them to a wide range of professionals. At the same time, we're helping our fellow members to grow their businesses. 'Less Blah' simply means we don't force referrals – we focus on getting to know, like and trust our fellow members, and the connections and referrals happen naturally.
How does this corporate hub work?
When you join Fresh Corporate Melbourne, you'll be the only member in your business category. You'll be expected to attend fortnightly meetings, and to regularly bring along guests from your existing network.
As well as our regular meetings, we hold quarterly 'Marquee Events'. These are held at prestigious venues, and you'll be asked to invite senior executive level guests. These are informal opportunities to network and introduce your valued clients to your fellow members and their guests.
At every meeting, a member gives a presentation about their business, or a topic on which they are an expert.
This helps us to build the 'know, like and trust' that is at the heart of Fresh. By getting to know a member that bit better, we get closer to understanding their perfect corporate connection and the contacts to whom we should introduce them.
Business Categories Available in This Hub
Categories Already Taken
Accountant
Architect
Branding and Graphic Design
Business Advisory Consultant
Co-Working Space
Commercial Finance
Digital Marketing
Financial Services
IT Service Provider
Lawyer - Workplace Relations
Leadership Development
Personal Trainer
Print Management
Property & Conveyancing Lawyer
Property Advocate
Town Planner
READY TO JOIN OUR NEXT MEETING?
Come along as a guest and experience a Fresh Online meeting for yourself. You can be sure of a warm welcome and some great connections.