Fresh Cafe Hubs meet face to face over breakfast or morning tea. We have a vast network of hubs, each one based in different suburbs.
Our venues provide a dedicated private room or quiet area, with all the facilities to run a highly professional meeting. And did we mention the great cafe food!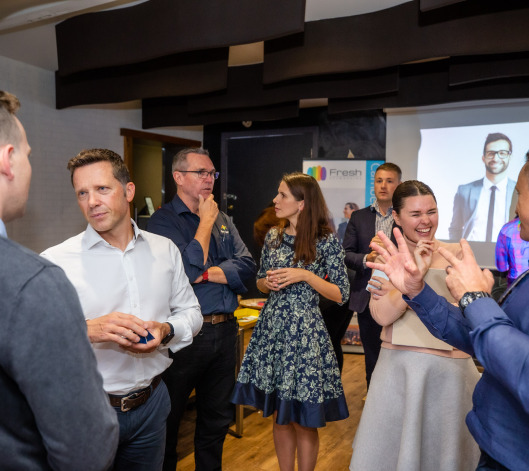 What to Expect in a Cafe Hub Meeting
You'll be warmly greeted when you arrive, and after placing your breakfast order, you'll mingle informally with the other members and guests.
The formal part of the meeting includes a chance for you to present your business with a short pitch, a main presentation where you'll learn more about a member's business and an opportunity to ask for a connection with a member or guest.
Depending on the agenda, there'll also be some networking tips, a chance to share positive news or a discussion on innovation and change.
Each hub has a leadership team, with six of the members taking on key roles to help ensure that meetings run super-smoothly and that members and guests get the very best from the Fresh experience. It's not all down to the leaders though – every member of the network hub plays their part in its success.
Facilitator
The overall leader of the network hub, driving the energy of the team. The facilitator is responsible for auditioning new members, keeping the hub on track to meet its goals and leads the closing portion of every meeting.

Co-Facilitator
Leads the first half of the meeting, setting the tone for the morning. Behind the scenes, the co-facilitator collects the metrics that show us how we're building stronger connections.
Education Coordinator
Every meeting has a member presentation, and some include networking education. The person in this role plans the schedule and introduces the speakers.

Meet and Greeter
Giving guests a warm welcome is an important part of the Fresh experience. Each hub has two meet and greeters, who are the first contact for our guests, and who ensure they are introduced to others in the meeting. In addition to the formal leadership roles.


Hub promoter
Fresh thrives on attracting new people and the person in this role promotes our fortnightly meetings and webinars and organises hub social events.

Members
Members are the very heart of every network hub. Our members bring their energy and commitment to every meeting, share their expertise, support each other and welcome guests.

WANT TO CHECK OUT A MEETING BEFORE JOINING?
We'd love to you come along as a guest and experience a Fresh meeting for yourself. You can be sure of a warm welcome and some great connections.