Fresh Corporate is the effective way to grow your corporate referral network. We're a networking group for professionals and business owners who work with corporate and mid-size clients.
Our members are from a wide range of businesses, with the common thread that we all have strong networks, and want to introduce them to each other. We hold fortnightly meetings, along with quarterly 'Marquee Events' at a local restaurant or sporting venue, for executive level guests.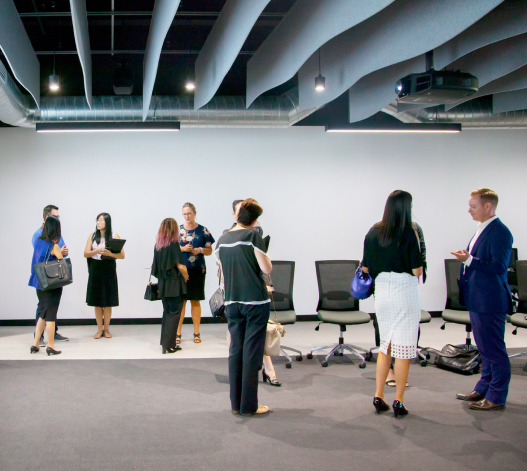 What to Expect in a Corporate Hub Meeting
Our regular fortnightly meetings start with informal networking between members and guests. The formal agenda includes every member and guest introducing themselves with a short overview of their business; education on networking skills or discussions on a key business theme; and a presentation from a member about their specialist area of expertise.
Our Marquee Events for executive guests are lunches at top-flight restaurants, cocktail parties or sporting events. There is no set agenda – these are opportunities to make corporate connections and introduce our guests to each other and our fellow members. The focus is on strengthening and expanding our networks.
WHO CAN JOIN A CORPORATE HUB
Our members own or work for businesses that work primarily with corporates or mid-sized businesses. They have an existing network of decision makers, and strong and trusted business relationships. They want to expand their own corporate networks, and can introduce their connections to their fellow members.
Each hub manages itself, through a leadership team who ensure guests are welcomed, the meeting runs smoothly and there's an interesting and well-prepared schedule of speakers. The key roles are:
Facilitator
The overall leader of the network hub, driving the energy of the team. The facilitator is responsible for keeping the hub on track to meet its goals and leads the closing portion of every meeting.
Co-Facilitator
Leads the first half of the meeting, setting the tone and energy. Behind the scenes, the co-facilitator collects the metrics that show us how we're building stronger connections.
Education Coordinator
Manages the speaking schedule and introduces the main presenters and networking education speakers.
MEET AND GREETERS
Responsible for managing the guest list and ensuring everyone receives a warm welcome.
EVENT MANAGER
Manages our quarterly Marquee Events.
Members
In addition to the formal leadership roles, Members are the very heart of every online hub. Our members bring their energy and commitment to every meeting, share their expertise, support each other and welcome guests.
WANT TO CHECK OUT A MEETING BEFORE JOINING?
We'd love to you join us as a guest and experience a Fresh meeting for yourself. You can be sure of a warm welcome and some great connections.