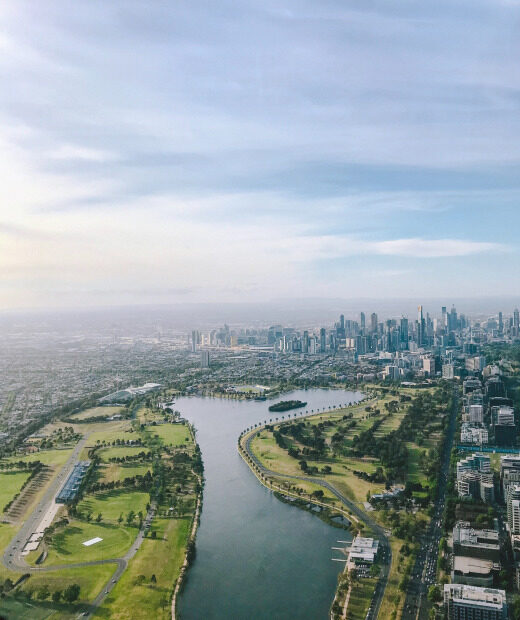 South Melbourne sits just 3 kilometres from Melbourne's central business district. It is one of Melbourne's oldest suburbs, with the stately and imposing South Melbourne Town Hall having been built in 1855. Today South Melbourne is part of the City of Port Phillip.
The 11,500 strong population is relatively young, with more 25-45 year olds than the Melbourne average – which contributes to the vibrancy that is very much a part of South Melbourne's appeal.
South Melbourne is famous for its market, which been selling everything from fashion to fruit, and woks to world foods, since 1867. The market is also the home of the delicious, oversize dim sims, that are now loved right across Melbourne, and known simply as 'South Melbourne Dimmies'.
The area is packed with businesses – within the City of Port Phillip there are 21,000, offering over 97,000 local jobs. The most significant sector is scientific, professional and technical services (with 22,000 jobs and employing over 20% of the population), followed by retail, healthcare and hospitality.
Business owners in South Melbourne are ambitious and want to grow. They welcome the opportunity to make connections with like-minded people through networking. That's why they flock to Fresh Networking.
Fresh Networking South Melbourne gives business owners and professionals the chance to meet and get to know, like and trust each other. That, of course, leads to more business.
Check out Fresh Networking if you're a business owner or professional in South Melbourne – we're looking forward to connecting with you.
At each meeting, one of the hub members is the main speaker, and gives a 10-minute presentation.
They share their knowledge and insights, and help us get to know them and their business.
See who's up next and what you'll learn from their presentation.
Business Categories Available in This Hub
As a member, you'll hold the sole position for your business category within a hub. This means you are in a non-competitive environment that fosters greater collaboration and teamwork toward shared objectives.
If your category is already taken in this hub, please check out our other cafe hubs or online hubs!
And if you're thinking of stating your own hub, get in touch.
Categories Already Taken
Accountant
Buyers Advocate
Commercial Finance Broker
Digital Marketing
Family Lawyer
Financial Planner
Mortgage Broker
Travel Agent
READY TO JOIN OUR NEXT MEETING?
Come along as a guest and experience a Fresh Online meeting for yourself. You can be sure of a warm welcome and some great connections.