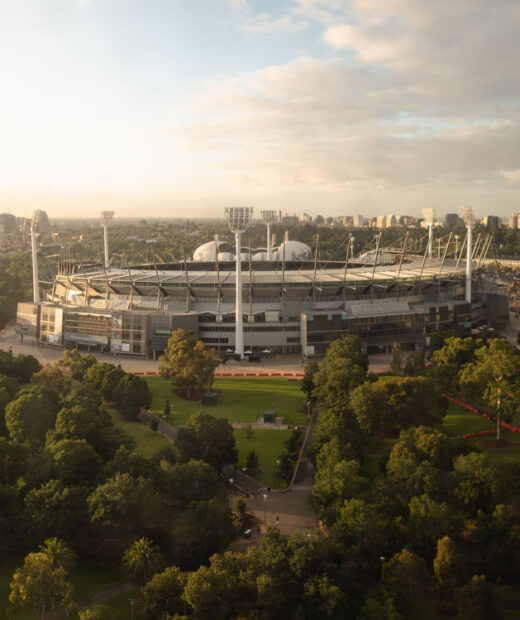 Richmond is a buzzing, lively, inner-city suburb, within the City of Yarra, just 3 kilometres from Melbourne's CBD. It is home to over 28,000 people – and with an average age of 34, they're a young crowd when compared to the Australian mean of 41.8 and even the capital city figure of 37.1.
Three parallel streets run the length of Richmond – Victoria Street, Bridge Street and Swan Street. All three were identified as major activity centres in the Melbourne 2030 Metropolitan Strategy. They attract tourists and locals alike, with a vibrant mix of live-music venue pubs, restaurants, cafes and shops, including Victoria Street's 'Little Saigon' and Bridge Road's selection of factory outlet stores.
And of course, there's Richmond's eponymous football team – the iconic yellow and black Tigers, whose Punt Road oval home is the very heart of the suburb.
Richmond boasts a wide range of businesses – with key sectors being professional, technical and scientific services, along with healthcare, retail and hospitality. Business owners and professionals here are business-savvy and keen to learn and grow. So it's no surprise they love Fresh Networking.
The dynamic, young, vibrant and multi-cultural community of Richmond loves the opportunity to make connections with like-minded people, and to build communities in which business naturally flows.
Fresh Networking offers business owners in Richmond the opportunity to make more connections with people they can get to know, like and trust.
If you're a business owner or professional in Richmond, Fresh Networking is for you. Come and check us out – you can be sure of a warm welcome and fabulous new connections.
At each meeting, one of the hub members is the main speaker, and gives a 10-minute presentation.
They share their knowledge and insights, and help us get to know them and their business.
See who's up next and what you'll learn from their presentation.
Business Categories Available in This Hub
As a member, you'll hold the sole position for your business category within a hub. This means you are in a non-competitive environment that fosters greater collaboration and teamwork toward shared objectives.
If your category is already taken in this hub, please check out our other cafe hubs or online hubs!
And if you're thinking of stating your own hub, get in touch.
Categories Already Taken
Accountant
Architect
Branding and Graphic Design
Commercial Finance
Financial Planner
Lawyer - Wills and Estate Planning
Lawyer – Family
Mortgage Broker
Office Equipment Supplier
Photographer - Commercial
SEO
READY TO JOIN OUR NEXT MEETING?
Come along as a guest and experience a Fresh Online meeting for yourself. You can be sure of a warm welcome and some great connections.