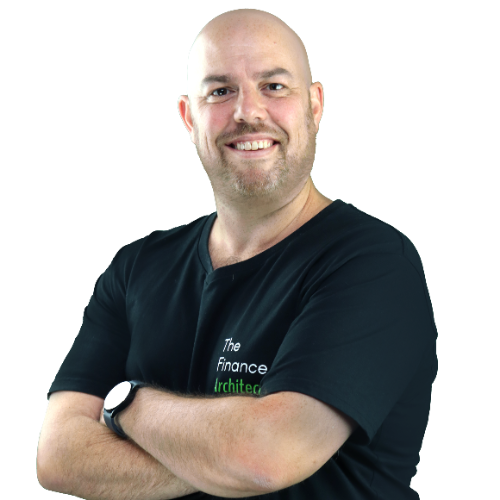 Mortgage Broker
Hubs: Monash
Three in five Australians are retiring having to count their pennies and relying on government pensions for the rest of their lives. In most cases, these are people that have worked damn hard to provide for their families and did so with pride. It shouldn't be this way for these people. The issue was they weren't equipped with the know-how and/or right mindset to change their fortunes. BUT – It doesn't have be that way!
My name is Dale Wilkinson from The Finance Architect and we are residential finance specialists with a decade of experience and passionate about helping every day Aussies pay their debt off faster. Through education on debt reduction, wealth creation and lifestyle strategies, we help facilitate the lives our clients want and are proud of.
Afterall, why work so hard for 65 years and not live the life you want in retirement? We only get one chance at life!
Get in touch if you are wanting to:
– Buy your first or next home
– Purchase an investment property
– Learn how to become debt free faster
– Build wealth for the future
What you'll get:
– passion and commitment to delivering you a solution that best meets your objectives
– jargon-free, easy-to-understand and regular communication
– a lifelong partner in helping you achieve your end goals
– access to a team of trusted industry professionals to enable your goals to be achieved
– an everyday Aussie who gets the challenges you're facing and can help with budgeting & banking setups along with finance
– an expert who will regularly keep the banks honest, review your rate and evaluate your current strategy and options
– a qualified finance professional trusted with mentoring new-to-industry finance brokers
– your hand held along the journey (process) and set free at the destination (results)
– a no-cost-to-you service
How to get in touch with me:
https://calendly.com/dalewilkinson
HAVE ANY QUESTIONS?
There's no such thing as a silly question. If there's something you'd like to know about Fresh, ask away…
Click below to contact us, or take a look at the most frequently asked questions.
WANT TO CHECK OUT A MEETING BEFORE JOINING?
We'd love to you come along as a guest and experience a Fresh meeting for yourself. You can be sure of a warm welcome and some great connections.