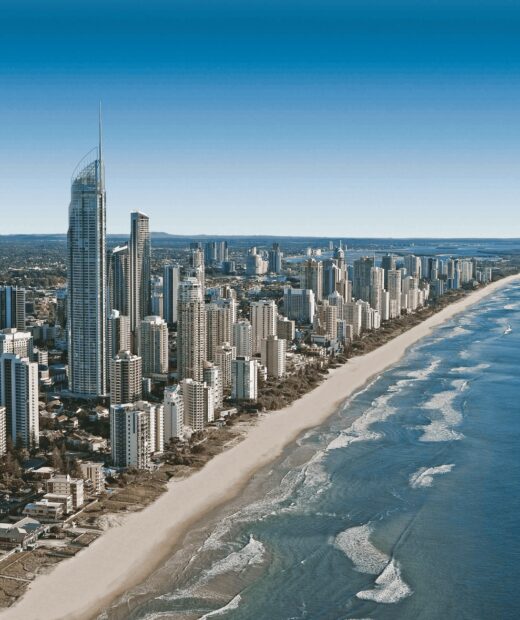 The Gold Coast, or 'The Goldie' is famous for its 70km of glorious, sandy surf beaches, its tropical climate and its rainforest hinterland. It's no wonder that 679,000 people have chosen to make their home here, making it the largest non-capital city in Australia, and the sixth largest overall. That population swells further with the influx of interstate and international tourists.
From the glitzy glamour of Surfers Paradise, to the quieter beaches further south, the national parks and the wooded inland hills, The Gold Coast has something for everyone.
It's not just a great place for a holiday though – it's a thriving place to work and run a business. The Gold Coast has a massive 70,000 businesses, driving economic prosperity. The primary industries are construction and the related real-estate market, along with tourism, education and the newer but rapidly growing creative industries and environmental sectors.
With its thousands of busy entrepreneurs and business owners, The Goldie is the perfect location for a Fresh National hub. Fresh National is an online networking group that helps business people create more connections, expand their networks, and build mutually beneficial relationships.
The benefits of online networking in the Gold Coast
Online is the future of networking – if you're a business owner focused on growth, you know that expanding your network is one of the most effective things you can do. But it's a struggle to find enough hours in the day, without having to find the time to travel to meeting venues. But with Fresh, we take away the pain of travel, and come to you via your screen.
We meet fortnightly – with meeting agendas that are specifically designed for online. There's plenty of variety, plenty of chance to engage in smaller groups as well as with the whole room, and interesting topics for discussion. The aim of our meetings is that everyone comes away with at least one new connection – and we've never missed that goal yet! We focus on getting to know, like and trust each other – so that business naturally flows.
The best of online, local and national networking
We encourage members of Fresh National Gold Coast to meet face to face too. Between our regular online meetings, there's plenty of opportunity for business or social get-togethers over a cold beer or two. These 'Get Fresh's are where a lot of the networking magic happens relationships are strengthened.
If you want to expand your network beyond the Gold Coast, we can help with that too – Fresh National Gold Coast is part of the broader Fresh community, with hubs in Queensland, Victoria and New South Wales. Once you join us, you can visit any of the other hubs, whenever you want. The opportunity to meet new faces is endless.
We offer regular training workshops to help you polish up your networking skills, your pitch and your presentation techniques. At Fresh National Gold Coast, you'll expand your network, learn new skills, make friends and have a lot of fun. We invite you to come along as a guest to see a meeting for yourself.
Efficient business networking for busy professionals
The best of online, with the option for face to face
'Know, like and trust' is our philosophy
No forced referrals – just natural business flow
Grow your network – in the Gold Coast suburbs and beyond
How does this online hub work?
When you join Fresh National Gold Coast, you'll be the only member in your business category.
Gold Coast is an area hub, affiliated with the state hub for Queensland. If an area hub has fewer than 10 members, it will take part in a combined meeting with the state hub. You may find that in the state hub meeting, you're not the only bookkeeper/graphic designer/mortgage broker in the room.
The faster the Gold Coast area hub grows, the faster you reach independent meetings and exclusive claim to your category.
At every meeting, a member gives a presentation about their business, or a topic on which they are an expert.
This helps us to build the 'know, like and trust' that is at the heart of Fresh. By getting to know a member that bit better, we get closer to understanding their ideal referral and whether we can introduce them to any of our contacts.
READY TO JOIN OUR NEXT MEETING?
Come along as a guest and experience a Fresh Online meeting for yourself. You can be sure of a warm welcome and some great connections.