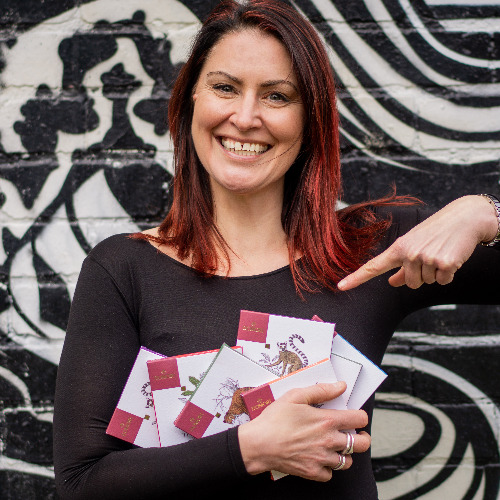 Corporate Gifts
Hubs: St Kilda
Hi. I'm Shari Aubrey – your local…
– Chocolate Dealer
– Corporate Gifting Specialist
– Experience Maker
– Owner of Fiamma Chocolate
– – – –
We deal in the world's best chocolate. In fact, the top 2% in the world; the type of chocolate most people haven't experienced before.
We specialise in corporate gifting and events. Gifts and events that are unique, of amazing quality and that make an impact – often starting with a base of exceptional chocolate.
If you're looking for some gifting inspo, read my four top tips to the perfect corporate gift: fiammachocolate.com.au/post/the-perfect-gift.
We're passionate about helping you connect with your clients, staff and stakeholders through our gift and event magic.
I firmly believe gifting is not a box ticking exercise. When done well, it's an exceptional opportunity to nurture the relationships that matter to your business.
My path to being a Chocolate Dealer has been windy. I come from a corporate life which has put me in good stead to understand what my B2B clients want to achieve; and on a personal level, I overcame 20 years of eating disorder history where chocolate was my nemesis, to a point where it is now my sweet success. Feel free to ask me – we're all stronger when we share our stories!
– – – –
Christmas gifts. Settlement gifts. New car purchases. Thank-you gifts. Onboarding/welcome packs. Lure staff back to the office packs. Convention tasters. Team events. Client events.
…you get the picture.
Our beautifully packaged gift boxes range from: our Signature Chocolate Gift Box, through to an impressive Champagne and Chocolate Gift Box, a very popular Whisky and Chocolate Pairing Box to a Locals Collection Gift Box, showcasing the best of Australia and NZ.
+ more!
Free, hand-written gift notes
Bespoke gifts available
White labelling available
Ethical chocolate
Sustainable packaging
Our events are unique, fun and immersive; whether you choose a straight up chocolate tasting, a whisky and chocolate event or luxe it up with French champagne and chocolate. We tailor all events to you – just ask.
Oh, and happy chocolate eating 🙂
HAVE ANY QUESTIONS?
There's no such thing as a silly question. If there's something you'd like to know about Fresh, ask away…
Click below to contact us, or take a look at the most frequently asked questions.
WANT TO CHECK OUT A MEETING BEFORE JOINING?
We'd love to you come along as a guest and experience a Fresh meeting for yourself. You can be sure of a warm welcome and some great connections.