Melbourne Outer South West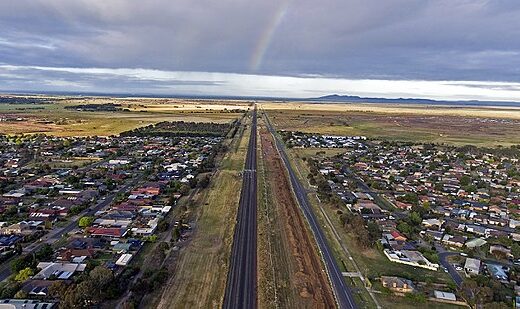 Melbourne Outer South West
Between Melbourne and Geelong, on the shores of Port Phillip Bay sits the City of Wyndham. It has a fast growing population, set to increase by 70% between 2021 and 2041. They're attracted by the combination of space (average population density is just 5 people per hectare, compared with 10 times that figure in the city of Yarra), beaches and shoreline, and a fast commute time to Melbourne CBD.
It's home to 283,000 people, many with young families, and 22,000 businesses. The primary industries are transport and logistics, retail and construction.
If you're one of the people who call the City of Wyndham home, and you're a busy business owner who'd love to make more connections, then Fresh National Melbourne Outer South West is for you.
The benefits of online networking in the Outer South West
Business owners know that referrals are the lifeblood of growth – and the bigger your network, the more referrals you'll generate. Fresh National is a business networking group designed to help you expand your network, create more connections and grow your business.
Fresh National is organised into capital city hubs and sub-hubs. We have capital city hubs in Melbourne Sydney and Brisbane. Fresh National Outer South West is a sub-hub affiliated with Melbourne. Because we meet online, you don't have the hassle of getting to a meeting venue – we're right there on your screen.
We're dynamic, positive and fun. We don't force referrals – what we do encourage is relationships – we know that when members know, like and trust each other, the referrals just flow.
The best of online, local and national networking
Just because we're online, doesn't mean we don't get to meet up over a coffee or a cold beer. We actively encourage members who'd like to connect face to face – socially or for business – to do so.
Fresh National helps you extend your network beyond the Outer South West too. As a member of Fresh National, you can visit any online hub in Melbourne, Sydney or Brisbane, getting to meet even more people who share your approach to networking and who want to meet you as much as you want to get to know them.
We're looking for busy business owners in the Outer South West, who want to expand their network, learn new skills and have fun while they do it. We're Fresh and positive and if you're the same, we'd love to welcome you. Please come along as our guest to see a meeting for yourself.
Networking for busy professionals in the Outer South West
Local and online for maximum connections
We believe in 'know, like and trust'
Relationships are at the heart of Fresh
No forced referrals – just strong relationships
How does this online hub work?
When you join Fresh National Outer South West, you'll be the only member in your business category.
Melbourne Outer South West is an area hub, affiliated with the state hub for Victoria. If an area hub has fewer than 10 members, it will take part in a combined meeting with the state hub. You may find that in the state hub meeting, you're not the only bookkeeper/graphic designer/mortgage broker in the room.
The faster the Melbourne Outer South West area hub grows, the faster you reach independent meetings and exclusive claim to your category.
At every meeting, a member gives a presentation about their business, or a topic on which they are an expert.
This helps us to build the 'know, like and trust' that is at the heart of Fresh. By getting to know a member that bit better, we get closer to understanding their ideal referral and whether we can introduce them to any of our contacts.
Speaker Presentation for next meeting:
Connect, Convince, Convert
Great business communication does three things - Connect, Convince and Convert your audiences. In this presentation, Carol Benton shares some tips and practical examples of how to communicate more effectively to achieve your business goals.
Key points
The two languages in business - 'What' and 'So What'
The benefits of speaking 'So What'
Practical tips and examples to Connect, Convince and Convert
READY TO JOIN OUR NEXT MEETING?
Come along as a guest and experience a Fresh Online meeting for yourself. You can be sure of a warm welcome and some great connections.