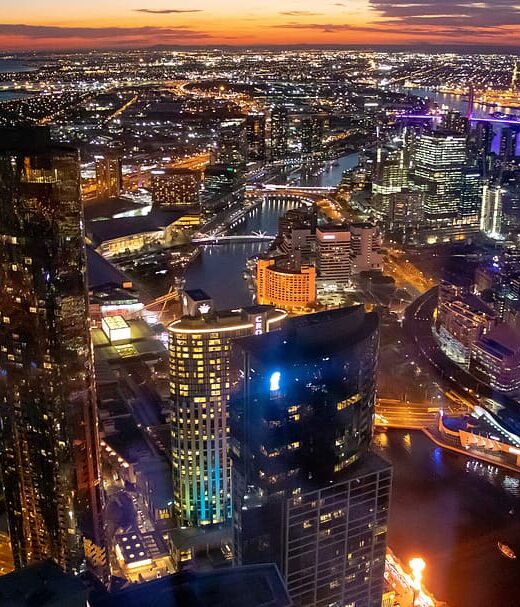 Melbourne is known for the world's greatest café culture, its passionate love affair with footy, its galleries and cultural life, the 'upside down' river Yarra and of course its 'four seasons in one day' weather. It's also one of the most multi-cultural cities in the world, with over a quarter of the population born overseas, and 141 nationalities living and working side by side in the area.
The capital of Victoria is a great place to live, work, eat, play, explore and relax. From the glinting skyscrapers that line the Yarra to the quaint historic Old Melbourne Gaol and Captain Cook's Cottage, old and new mix in this cultural hub of a city.
There's a thriving business culture too, with the CBD being host to over 16,000 businesses, and a particularly strong representation in the services sector. That's why Melbourne CBD is the perfect home for a Fresh National hub. Savvy business owners, professionals and entrepreneurs understand the value of networking, but not everyone has the time to travel to cafés to meet face to face, even with the lure of Melbourne's signature avocado smash.
The benefits of online networking in the Melbourne CBD
Fresh National Melbourne CBD is designed for you if you're a Melbourne-based networker who is time-poor but still understands that referral networking with like-minded business people can really boost your marketing and play a big part in your business growth.
Melbourne Fresh National offers the perfect opportunity to stay connected and expand your business audience without having to travel to meetings. Our meetings are held fortnightly, and the agenda is never the same two meetings running, to keep things fresh and vibrant. You'll meet with other local business people across the city, get to know them and their businesses, and build strong relationships that lead naturally to mutual referrals.
The best of online, local and national networking
Online networking is the perfect way to expand your connections without the time and hassle of travel. But even the most dedicated zoomer wants to catch up 'in the flesh' every now and then, so we've organised Fresh National Melbourne into local 'sub-hubs', making it quick and easy to meet face to face when the mood takes us.
Fresh is not just limited to Melbourne though – we're a national networking group, with members across Australia (an even overseas). When you join Fresh National Melbourne CBD, you can visit any other Fresh National hub, as often as you like, giving you even more opportunities to expand your network, well beyond Melbourne's CBD.
Efficient business networking for busy professionals
The best of online, with the option for face to face
'Know, like and trust' is our philosophy
No forced referrals – just natural business flow
Grow your network – in Melbourne's CBD and beyond
How does this online hub work?
When you join Fresh National, you'll be allocated to an area hub, based on the area of Melbourne in which your business is based. Within your area hub, you'll be the only member in your business category.
If you're in a smaller area hub, which hasn't yet reached the 10 members required for independence, you'll still be taking part in a combined meeting with the capital city hub. You may find that in the capital city hub meeting, you're not the only bookkeeper/graphic designer/mortgage broker in the room. The faster your area hub grows, the faster you reach independent meetings and exclusive claim to your category.
At every meeting, a member gives a presentation about their business, or a topic on which they are an expert.
This helps us to build the 'know, like and trust' that is at the heart of Fresh. By getting to know a member that bit better, we get closer to understanding their ideal referral and whether we can introduce them to any of our contacts.
READY TO JOIN OUR NEXT MEETING?
Come along as a guest and experience a Fresh Online meeting for yourself. You can be sure of a warm welcome and some great connections.