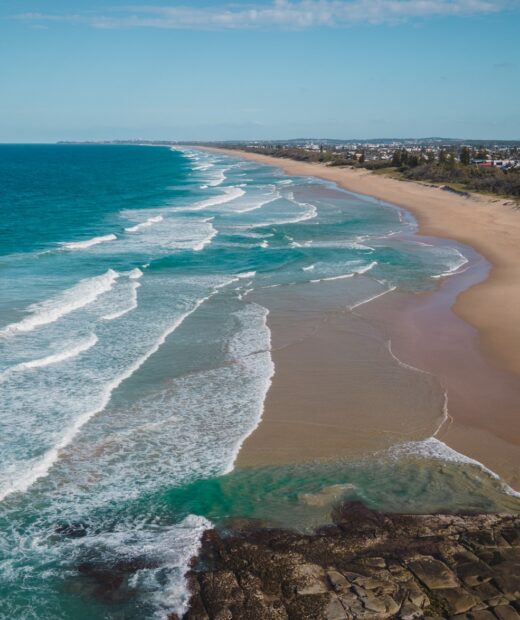 The name says it all – Queensland's Sunshine Coast boasts an outdoor lifestyle, much of it spent on the area's 60km of beautiful sunny beaches. Whether you're into surfing, fishing, walking or beach barbecues, the Sunshine Coast has lots to love. Inland are quaint villages set on rainforest-covered hills – a picture of calm and tranquility. The Sunshine Coast stretches from the coastal city of Caloundra in the south to the Noosa in the north. Although within commuting distance of Brisbane, the vibe on the Sunshine Coast is very differing to its big city neighbour. It's a place to relax and enjoy life.
It may have a laid back nature, but business thrives on the Sunshine Coast too. With a population of 336,000 and some 33,000 businesses, the Sunshine Coast produces almost 5% of Queensland's Gross State Product (GSP). The area is growing rapidly – in fact 50% faster than next door big city Brisbane. There's plenty of opportunity for businesses to prosper and grow in this beautiful area.
With so much to offer, the Sunshine Coast is also the perfect place for a Fresh National hub. Fresh National Sunshine Coast is a networking group for busy business people who want to expand their connections on the Sunshine Coast and beyond.
The benefits of online networking in the Sunshine Coast
We all know that networking is a great business growth strategy – making new connections, getting to know other like-minded business people and harnessing the power of giving and receiving referrals.
But it can be time-consuming to have to travel to meetings, and commit to attending every week. That's where Fresh National is different. We meet fortnightly, and online. Saving you time, energy and money, but still ensuring you make plenty of new and interesting connections.
We'd love you to try it for yourself, so please do come along as our guest to check out a meeting. We can promise you'll make new connections and have plenty of opportunity to interact with like-minded business people.
Our agenda is specifically designed for online – they're a mix of small group and whole room networking, discussions and presentations, business issues and more light-hearted, fun topics. You'll have plenty of chance to interact with others, tell them about your business and learn about theirs.
We focus on getting to know, like and trust each other, and we know that that is the key to business referrals. Our goal is that everyone leaves every meeting with at least one new connection.
The best of online, local and national networking
Once you join Fresh National Sunshine Coast, you'll have plenty of opportunity to get to know your fellow 'Freshies'. We meet online, but because you're part of a local group, we also do encourage you to get together face to face if you'd like to, in between the meetings. It could be a social or business chat, but it all helps to build even stronger relationships.
You'll also have opportunities to build your network outside the Sunshine Coast too. Fresh National Sunshine Coast is part of the Fresh National community up and down the east coast of Australia. As a member, you can visit any other online hub, as often as you like, giving you the chance to make literally hundreds of connections.
As a business owner, professional or entrepreneur, you have a busy life. But you value networking and still want to find ways to make new connections and have more conversations. If that sounds like you, Fresh National Sunshine Coast is your new home for networking.
Networking for busy business people on the Sunshine Coast
Online networking saves time and cost
Get to know, like and trust like-minded people
No forced referrals – plenty of genuine business opportunity
Access to connections on the Sunshine Coast and beyond
How does this online hub work?
When you join Fresh National Sunshine Coast, you'll be the only member in your business category.
Sunshine Coast is an area hub, affiliated with the state hub for Queensland. If an area hub has fewer than 10 members, it will take part in a combined meeting with the state hub. You may find that in the state hub meeting, you're not the only bookkeeper/graphic designer/mortgage broker in the room.
The faster the Sunshine Coast area hub grows, the faster you reach independent meetings and exclusive claim to your category.
At every meeting, a member gives a presentation about their business, or a topic on which they are an expert.
This helps us to build the 'know, like and trust' that is at the heart of Fresh. By getting to know a member that bit better, we get closer to understanding their ideal referral and whether we can introduce them to any of our contacts.
Speaker Presentation for next meeting:
Connect, Convince, Convert
Great business communication does three things - Connect, Convince and Convert your audiences. In this presentation, Carol Benton shares some tips and practical examples of how to communicate more effectively to achieve your business goals.
Key points
The two languages in business - 'What' and 'So What'
The benefits of speaking 'So What'
Practical tips and examples to Connect, Convince and Convert
READY TO JOIN OUR NEXT MEETING?
Come along as a guest and experience a Fresh Online meeting for yourself. You can be sure of a warm welcome and some great connections.