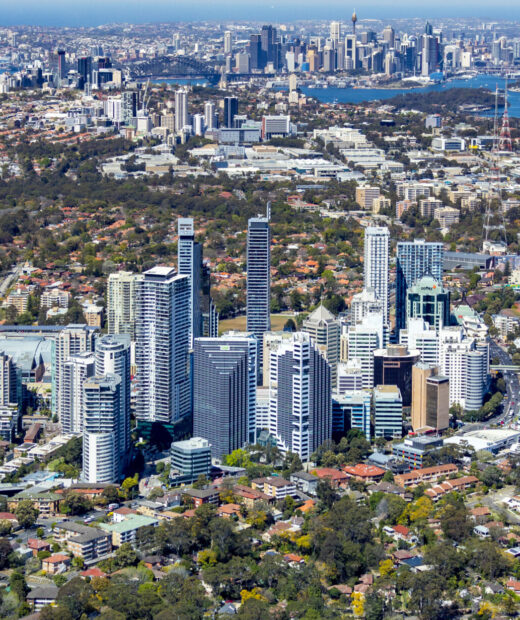 Sydney's Upper North Shore area stretches from St Leonards and Chatswood, just a few kilometres north of the CBD, up to the open spaces of Mount Colah and Cockle Creek. It encompasses the City of Willoughby and the Ku-Ring-Gai Council. It's an area of contrasts, with the retail and technology businesses of the southern reaches, the coves, inlets and beaches of middle harbour and the desirable leafy suburbs to the north.
The Upper North Shore is a great place to live and work – it's home to over 200,000 people and nearly 30,000 businesses. Professional, scientific and technical businesses dominate the area, with 15% of people in the City of Willoughby engaged in the sector.
With a thriving population and business culture, the Upper North Shore is the ideal home for a Fresh National hub – a place for business owners, professionals and entrepreneurs to connect with like-minded people.
Fresh National is a networking group for people who want to get the most out of their day, and don't have the time to travel to meetings. We meet online, saving you time, energy and hassle.
The benefits of online networking in the Upper North Shore
If you're a business owner, professional or entrepreneur, you'll understand the value of networking. It's a great strategy to grow your business and to become 'someone who knows someone'. But you're probably also time-poor and simply can't commit to long, weekly meetings and the travel time to get there.
At Fresh National we understand the challenges – so we meet once a fortnight, online, for 75 minutes. In our meetings, you don't sit on mute except for the one minute where you're presenting your business – you get to engage, discuss and interact.
We don't simply do the same thing every meeting, we change up our agendas, to keep things fresh, fun and never boring!
If your associate networking with being 'forced' to make referrals…don't worry. That's not how Fresh operates – because we know it doesn't work. Instead we focus on getting to know, like and each other, and we see referrals just naturally flow.
The best of online, local and national networking
Much of the value of networking comes from what you do between the meetings, and we encourage our members to meet individually to continue to build their relationships. We call these meetings 'Getting Fresh', and – because your fellow hub mates are all from the Upper North Shore – you can do them face to face if that suits you.
Online networking also eliminates boundaries, and enables connections way beyond the Upper North Shore. Fresh National has hubs up and down the Eastern Seaboard, and you can visit as many of them as you want, as often as you want – helping you to grow your connections further afield.
If this sounds like your cup of tea – come and join us. We'd love to welcome you to a meeting as our guest – you'll have the chance to tell us all about your business and hear from our members. We promise you new connections and a lot of fun.
Business networking without the travel, hassle and cost
For busy professionals, business owners and entrepreneurs
Fortnightly meetings
Get to know, like, trust each other
Grow your network – on the Upper North Shore and beyond
How does this online hub work?
When you join Fresh National Sydney Upper North Shore, you'll be the only member in your business category.
Sydney Upper North Shore is an area hub, affiliated with the state hub for New South Wales. If an area hub has fewer than 10 members, it will take part in a combined meeting with the state hub. You may find that in the state hub meeting, you're not the only bookkeeper/graphic designer/mortgage broker in the room.
The faster the Sydney Upper North Shore area hub grows, the faster you reach independent meetings and exclusive claim to your category.
At every meeting, a member gives a presentation about their business, or a topic on which they are an expert.
This helps us to build the 'know, like and trust' that is at the heart of Fresh. By getting to know a member that bit better, we get closer to understanding their ideal referral and whether we can introduce them to any of our contacts.
READY TO JOIN OUR NEXT MEETING?
Come along as a guest and experience a Fresh Online meeting for yourself. You can be sure of a warm welcome and some great connections.