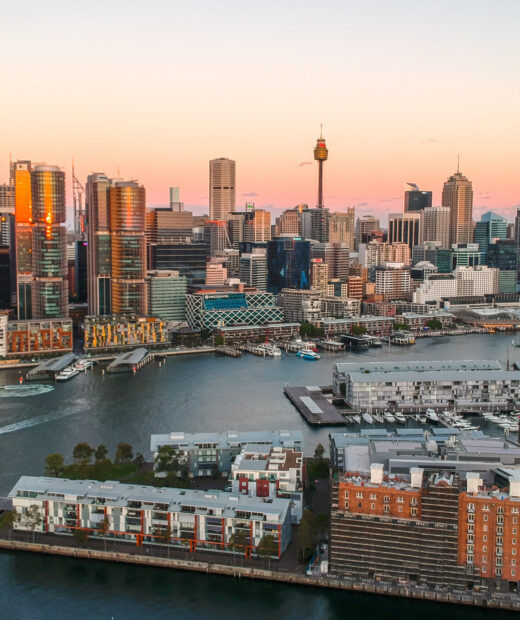 Known the world over for the Sydney Opera House, Sydney Harbour Bridge, iconic beaches, incredible vistas and world-class restaurants, events and festivals, Sydney offers an awesome lifestyle, whatever your age or interests.
Sydney is Australia's largest city (although the gap is closing, Melburnians like to remind Sydneysiders), home to people whose journeys started in all four corners of the globe, with a bustling big city vibe. It blends a modern, dynamic lifestyle with a rich historic and cultural life. Whether you're into world class opera, surfing the waves or eating global cuisine, Sydney never fails to deliver on its promise.
With over 17,000 businesses, it's not all play in Sydney – the capital of New South Wales is home to corporations, mid-sized businesses and entrepreneurs and start-ups. Sydney's business landscape is as varied as its culture. That landscape now includes Fresh National networking.
Fresh National adds to the vibrancy and energy of the Harbour City. If you're a Sydneysider who loves to network, wants to build more connections and have a lot of fun while doing it, Fresh Networking is the place for you.
The benefits of online networking in Sydney CBD
Created for business people who want to expand their networks in Sydney and beyond, Fresh Networking can help take your business to the next level.
We're a group of like-minded business people, who want to grow our own businesses and help others do the same. We're generous, savvy and fun! We love expanding our networks to become 'someone who knows someone' – the person with all the contacts.
The best of online, local and national networking
Our meetings are opportunities to really get to know, like and trust each other. We meet fortnightly, online. So if you're time-poor it's a great way to network without the hassle of Sydney travel (not to mention money and calories on café brekkies!). But because we all live and work in the CBD area, we can also catch up face to face between meetings if and when we want we want to.
But if your horizons are bigger than just Sydney CBD, Fresh National can help you there too. We're part of the Fresh National network that covers three states, giving you the option to expand your networks to the rest of NSW, and beyond the state border into Victoria and Queensland. When you join Fresh National Sydney CBD you can also attend meetings at any of our other online hubs, which span the eastern seaboard of Australia.
Time-saving networking for busy professionals
The best of online and face to face
Get to know, like and trust your fellow members
No forced referrals – just natural business flow
Grow your network – in the CBD, NSW, Victoria and Queensland
How does this online hub work?
When you join Fresh National Sydney CBD, you'll be the only member in your business category.
Sydney CBD is an area hub, affiliated with the state hub for NSW.If an area hub has fewer than 10 members, it will take part in a combined meeting with the state hub. You may find that in the state hub meeting, you're not the only bookkeeper/graphic designer/mortgage broker in the room.
The faster the Sydney CBD area hub grows, the faster you reach independent meetings and exclusive claim to your category.
At every meeting, a member gives a presentation about their business, or a topic on which they are an expert.
This helps us to build the 'know, like and trust' that is at the heart of Fresh. By getting to know a member that bit better, we get closer to understanding their ideal referral and whether we can introduce them to any of our contacts.
Business Categories Available in This Hub
Categories Already Taken
Accountant
Business Consultant
READY TO JOIN OUR NEXT MEETING?
Come along as a guest and experience a Fresh Online meeting for yourself. You can be sure of a warm welcome and some great connections.