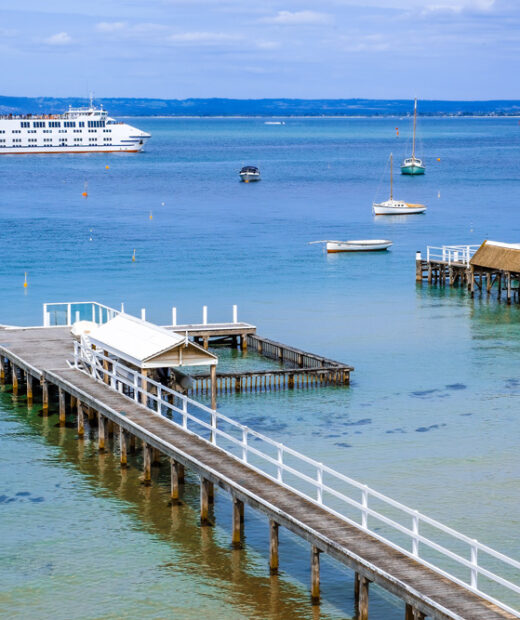 The Fresh Mornington Peninsula hub is for business owners in the Mornington Peninsula Shire and the City of Frankston.
The glorious Mornington Peninsula is one of Victoria's jewels. It has something for everyone – calm shallow beaches, pounding surf, bush walks, cool climate wineries, top class golf courses, a natural hot springs and stunning views.
The area is more than a place to relax though – it's a thriving hub for over 16,000 businesses, with a further 30,000 in neighbouring Frankston.
Frankston, the gateway city to the Mornington Peninsula is a rapidly growing $9 billion dollar economy. It is home to 142,000 residents and 33,000 workers, it hosts Monash University and Chisholm Institute of TAFE as well as manufacturing, health care, social assistance, construction and retail businesses.
With all this on their doorstep, it's no wonder that the members of Fresh Mornington Peninsula hub are a dynamic, motivated and ambitious bunch. They're committed to business success and are part of Fresh because they want to connect with like-minded business owners and are committed to helping each other generate opportunities for growth.
Fresh Networking is about 'More Connections' and 'Less Blah'. Fresh helps you to build your local network of like-minded business people on the Peninsula and beyond, and focusses on getting to know, like and trust each other, not on forced referrals or hitting targets.
If you're a Peninsula or Frankston-based business owner or professional who understands the value of networking, and wants to expand your connections, Fresh Mornington Peninsula is the place for you.
The Mornington Peninsula hub currently meets online, but will resume café meetings later in the year. Come along as a guest and you can be sure of a genuine smile and interested conversation from this professional and friendly hub.
At each meeting, one of the hub members is the main speaker, and gives a 10-minute presentation.
They share their knowledge and insights, and help us get to know them and their business.
See who's up next and what you'll learn from their presentation.
REGISTER HERE >
Speaker Presentation for next meeting:
Giving your business a cash injection at different life stages
They say cash is king, but sometimes you may need to borrow money. However, borrowing money for a business at different stages can be confusing, complicated, and take you away from what is important in running your business. It doesn't need to be!
Key points
What are lenders looking for when applying for business loans?
What loan options are available when you are looking to start or grow your business?
What assistance is available to a business owner impacted by COVID?
Business Categories Available in This Hub
As a member, you'll hold the sole position for your business category within a hub. This means you are in a non-competitive environment that fosters greater collaboration and teamwork toward shared objectives.
If your category is already taken in this hub, please check out our other cafe hubs or online hubs!
And if you're thinking of stating your own hub, get in touch.
Categories Already Taken
Business Coach
Business Performance Coach
Digital Marketing
Insolvency Practitioner
Mortgage Broker
READY TO JOIN OUR NEXT MEETING?
Come along as a guest and experience a Fresh Online meeting for yourself. You can be sure of a warm welcome and some great connections.